Seamab's children stand on the shoulders of a giant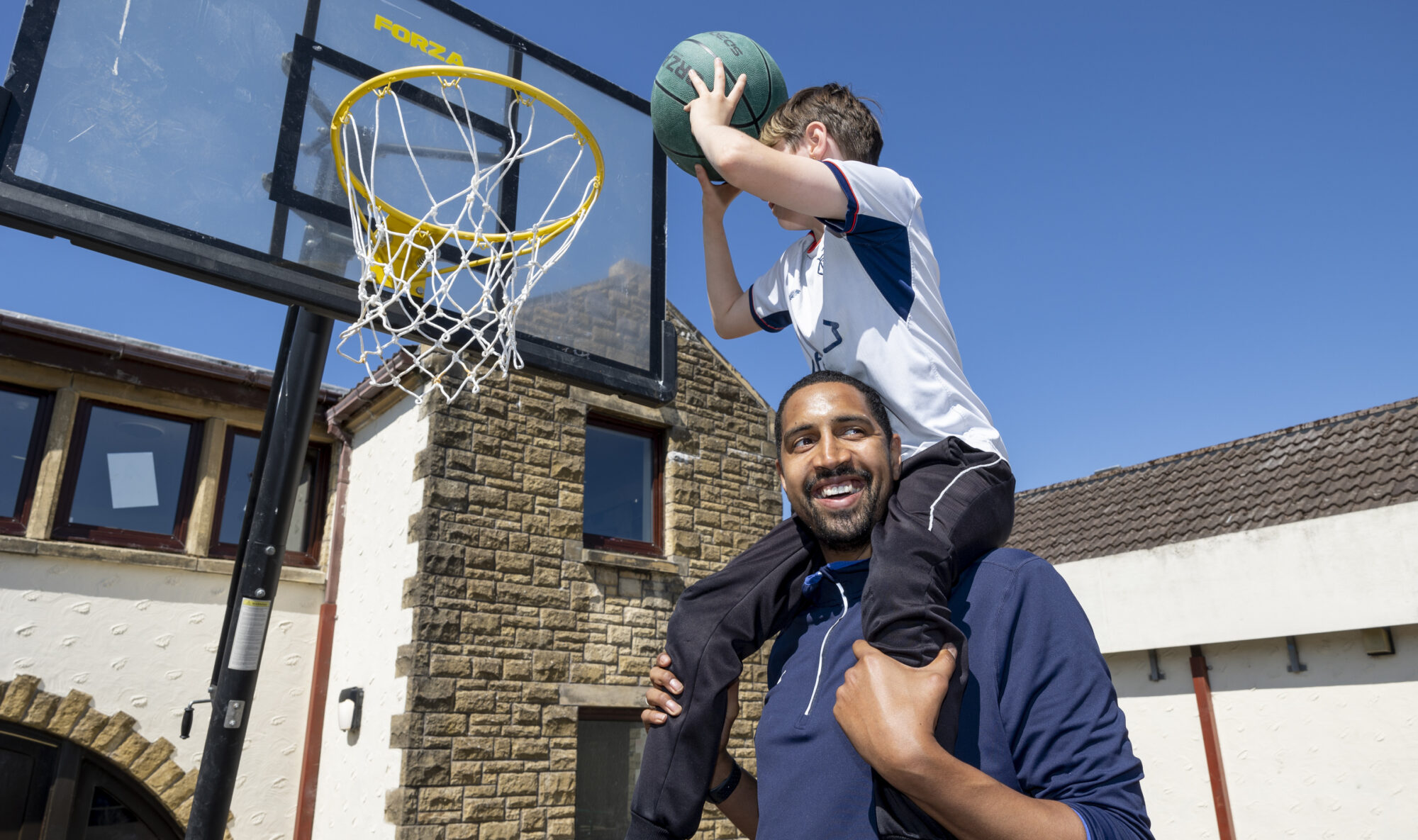 Seamab's children and young people were soaring high with excitement after a special visit from one of the UK's greatest ever basketball players – six foot ten star Kieron Achara MBE.
Since retiring from competitive basketball in 2019, Team GB Olympic hero Achara has focused his efforts on spreading the word of the sport and the positive impact it can have on people from all walks of life.
The 39-year-old Scot, who captained Team GB at the London 2012 Olympics and entered the 2008 NBA Draft, had lots of fun introducing our youngsters to basketball.
Seamab continues to fundraise to enable us to provide dedicated sports and educational facilities for the future through our plans to build a new purpose-built school.
The current school is situated in a former residential property, meaning our pupils do not currently have access to a gym hall. The new school would mean basketball and other indoor games could soon become a regular fixture all year round.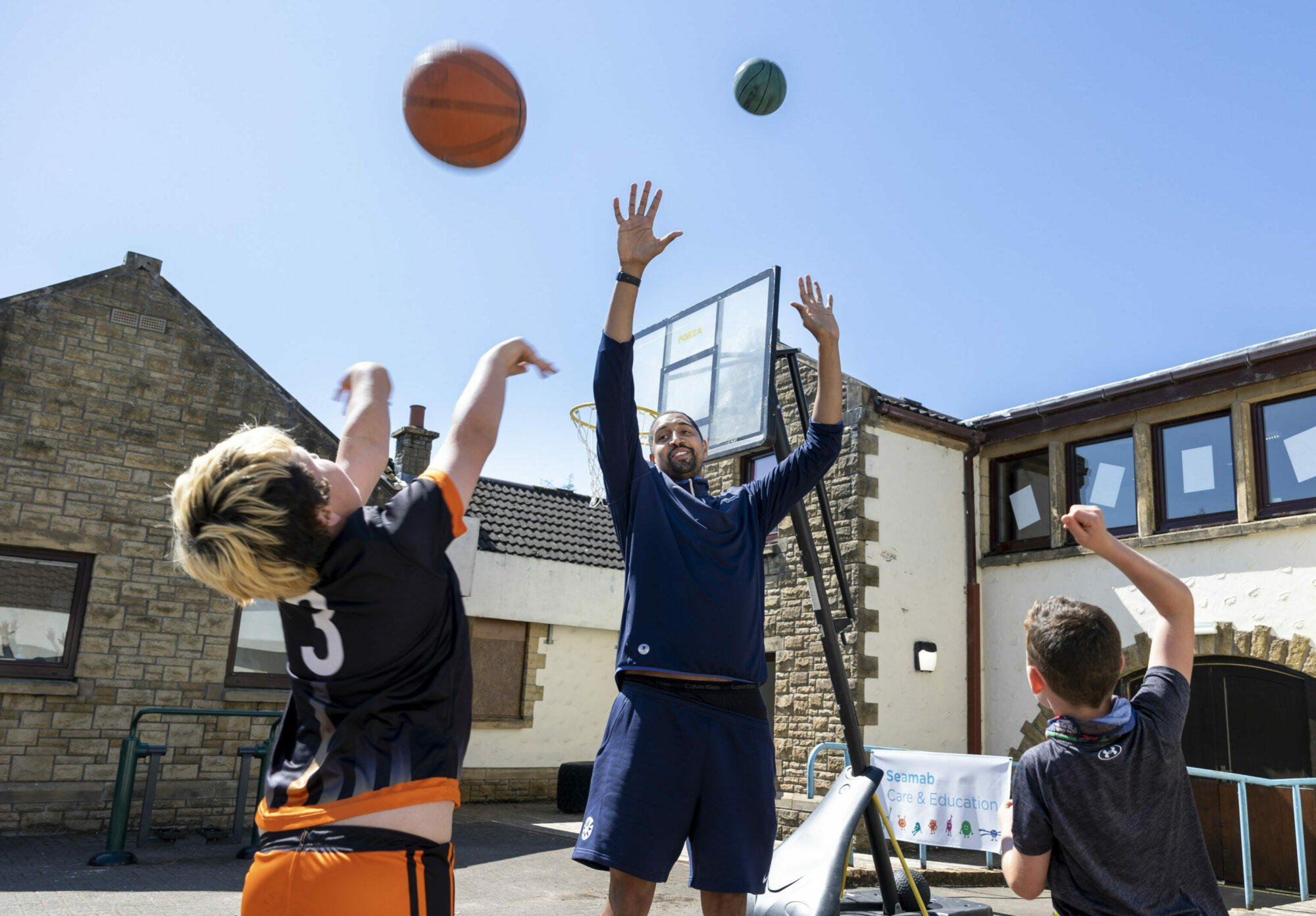 The £5.5 million new school project is backed by some of Scotland's leading property companies, including the Chris Stewart Group and Thomas & Adamson, 3D Reid, Thomson Gray, Will Rudd and Rybka. Another £2.5m is needed to see the new school become a reality. Achara's visit is part of a concerted effort by the school to utilise the power of sport to improve the lives of pupils.
Achara said: "More people need to know about the impact Seamab has on people's lives. My visit will stick with me for a long time. While the children at the school have faced unimaginable challenges, they are incredibly warm. I was struck by their joy and enthusiasm in being involved.
"Basketball has an incredible impact on people's lives around the world; it can change lives. The sport helps young people build confidence, character and resilience. These pupils deserve access to a gym hall like every other child. We're excited that basketball will soon become a regular activity for them. "
To support the new school project click on our Donate button.
Seamab Forest School. Where the magic happens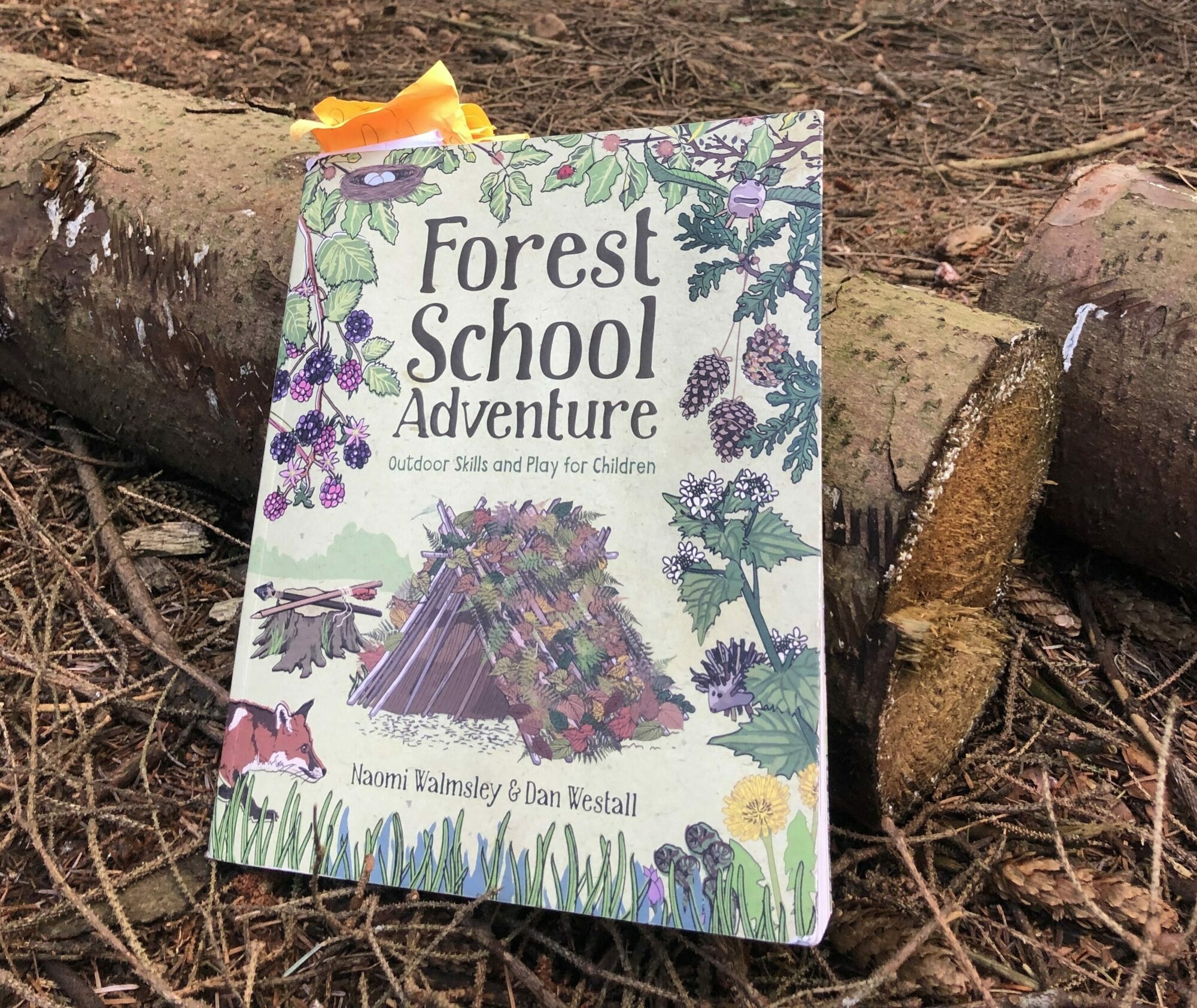 We are delighted to announce the launch of our Forest School's initiative, an exciting programme which will allow us to extend the variety of outdoor experiences we are able to offer our children.
At Seamab we believe in the magic of the outdoors to help our children build their confidence, self-esteem, and resilience, not to mention to help build their love of nature.
Outdoor adventure and play are not only encouraged, but they are also a vital part of our children's care. Outdoor play is known to contribute to healthy brain development and exposing children to stimulating play and engaging them in new learning helps build resilience, connections, and neural pathways.
Our current programme of outdoor learning is extensive and includes bushcraft, survival skills, outdoor games, camping, fishing, and team building exercises, to name just a few. However, the Seamab Forest school initiative will allow us to 'branch out' and provide an even wider range of magical learning experiences.

Our outdoor guru, John Wells, has begun the journey towards becoming a fully qualified Forest School teacher. Working with our youngest children in Class Hug, John has now run eight sessions of Forest School.
The children have had a great time participating in a vast range of activities from survival skills, outdoor games and nature studies to camping, fishing and team building activities. These activities allow them to develop skills for problem solving, teamwork, leadership and communication all coupled with the wonder and beauty of being outdoors. What's truly fabulous about Forest Schools is that the sessions are child led so Class Hug have had a great time building bug hotels and shelters, cooking outdoors, and creating stunning works of transient art.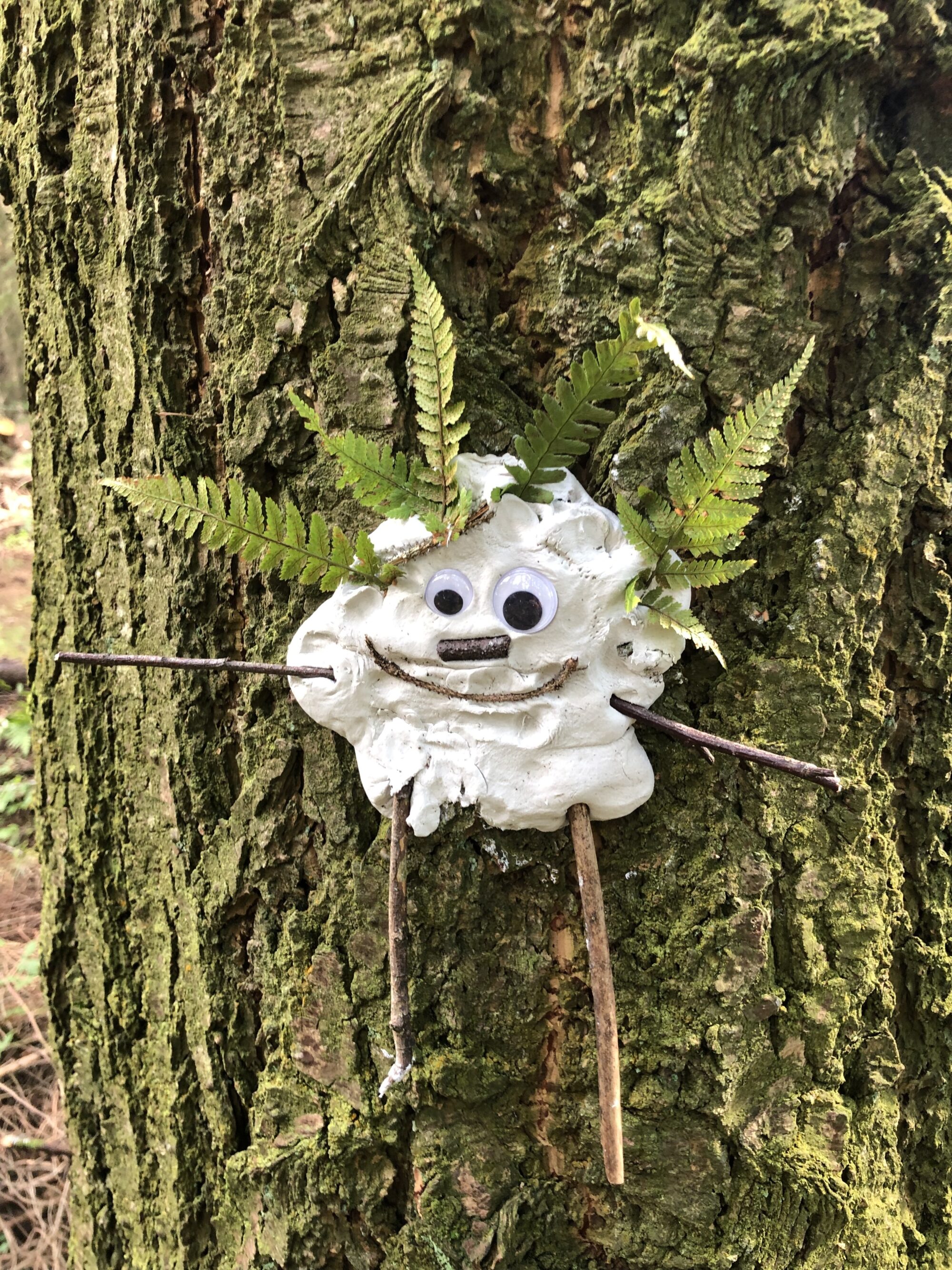 Each session helps the children build resilience and regulate their emotions whilst allowing them to experience the natural consequences of the outdoors and build up their confidence as they overcome challenging situations. However, above all, the children have had fun. Who wouldn't enjoy toasting marshmallows beside a campfire?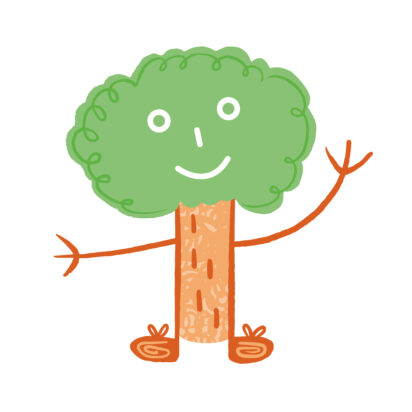 To top it all off, John asked the children to create a new Seachanger to represent their feelings about our new outdoor classes. Little Woodline was the winning design, dreamt up by an incredibly talented young artist. We think Little Woodline embodies the happiness and vibrancy of a day spent at Seamab's Forest school. We hope you agree.
Scottish Rugby Legend takes up role as Seamab Ambassador
Chris Paterson, Scottish rugby's leading points scorer and second-most capped male player, has become an Ambassador for Seamab Care and Education.

The rugby legend has taken up the role to support Seamab's plans for a new purpose-built school for the children in its care. In his new role, Chris will take an active part in the charity's fundraising efforts, helping to raise the £5.5m needed to build the new school. Already backed by some of Scotland's leading property companies who are providing expertise and services to deliver the plans, as well as donations from philanthropists and trusts and foundations, Seamab now has £3m of funding in place and is planning to start on-site later this year.
Touched by the commitment of Seamab and its staff to the challenges they face, Chris, who trained as a PE teacher, will also support the school's sports and outdoor activities by running rugby sessions with the children. On taking up his role, Chris commented, "Seamab is a small charity but visiting the school you immediately understand the enormity of the role it undertakes and the need for its services. The staff made a deep impression on me. I was struck by their warmth, their patience and how incredibly hard they work with a huge amount of effort going towards getting a moment of joy and seeing children grow and develop."
Seamab CEO Stuart Provan welcomed Chris at Seamab last week when he delivered a training session, which all of the children thoroughly enjoyed. Stuart said, "We are incredibly lucky to have Chris Paterson be part of Seamab supporting our fundraising campaign. He commands a great deal of respect both inside and outside the sports arena and has instantly connected with our children during his visits."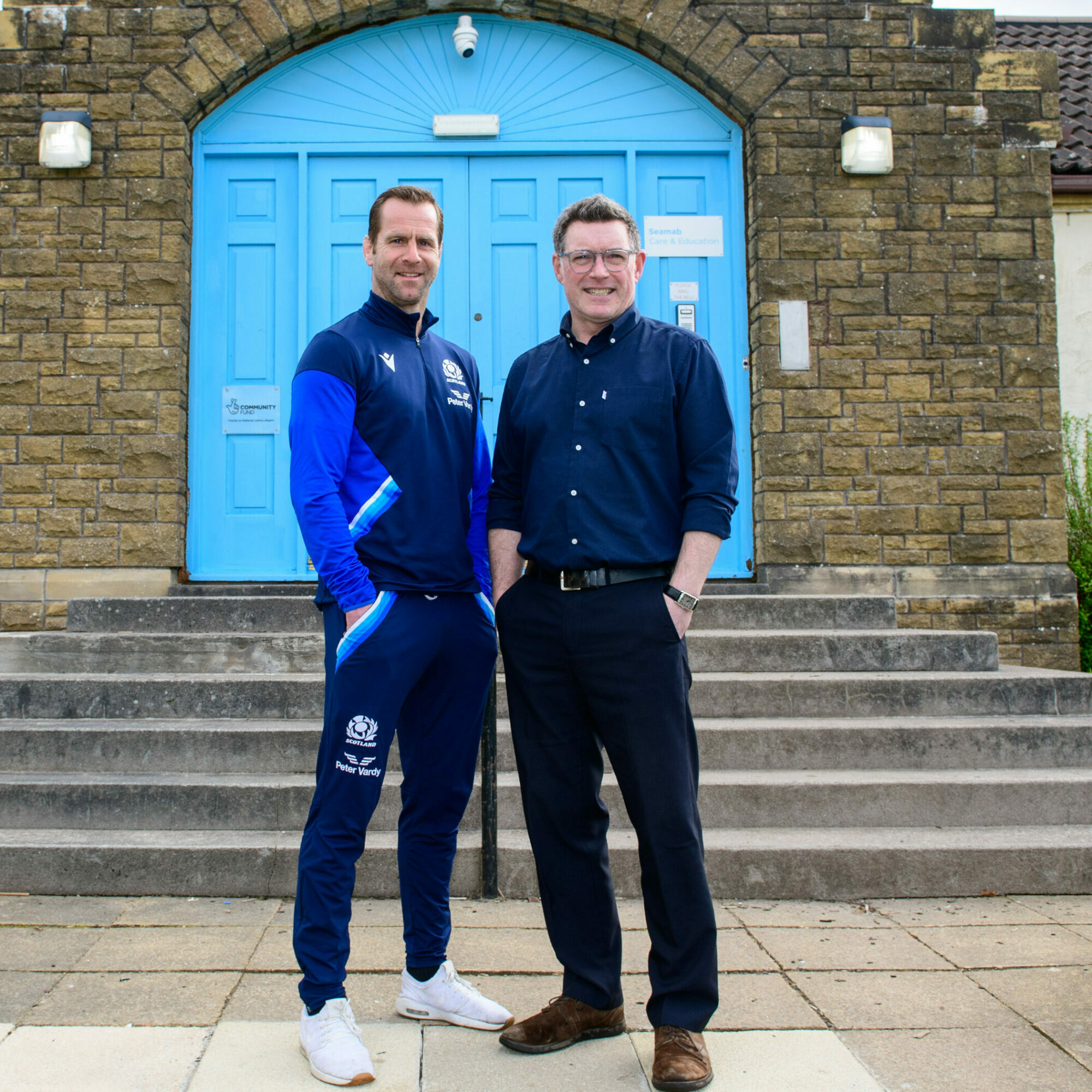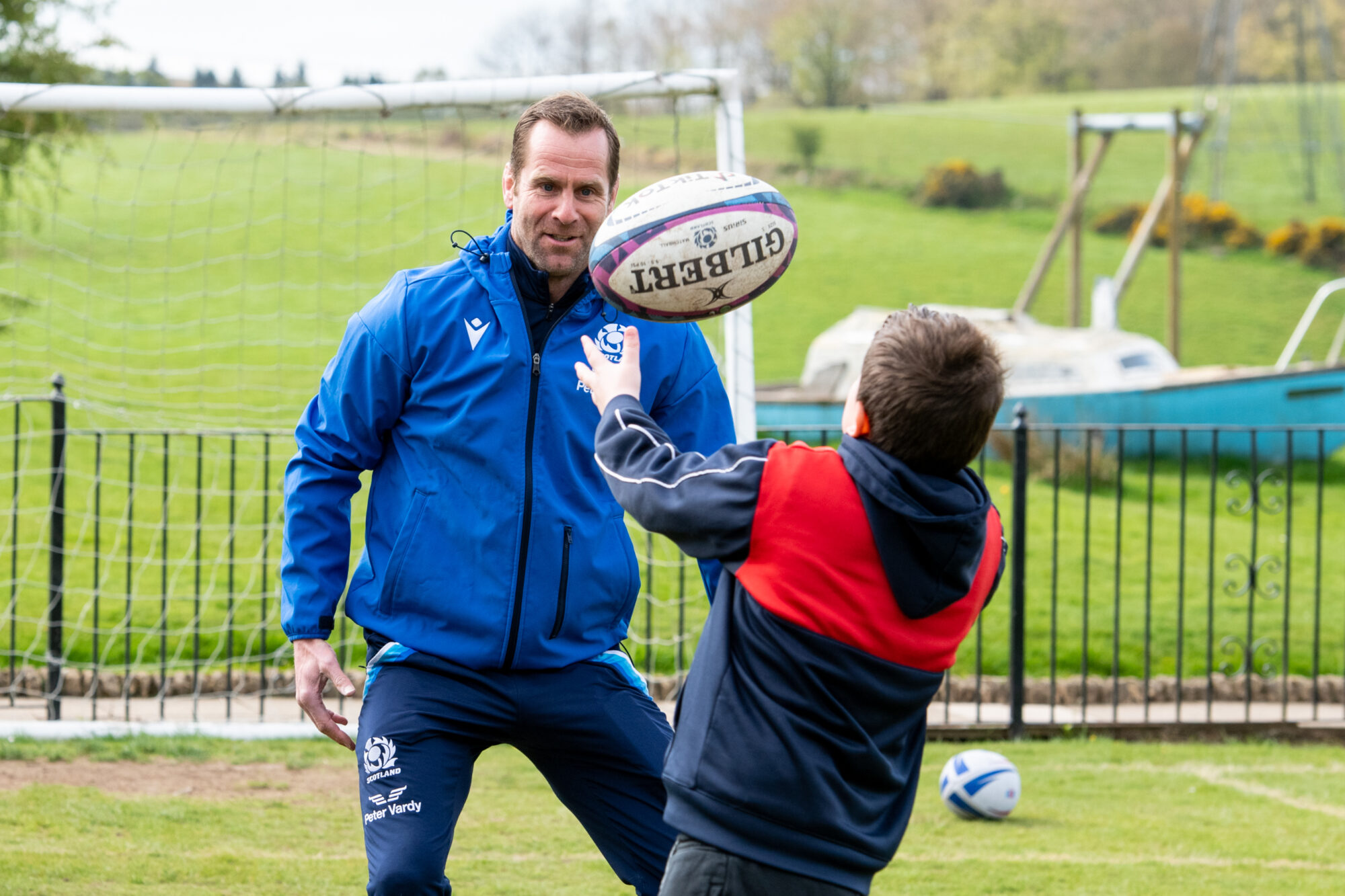 Seamab youth club

We are very grateful to the National Lottery Community Fund – Awards for All Scotland for their generous grant of £9,999 towards the purchase and construction costs of our new youth club on the Care Campus. This grant will also allow us to buy some resources for the children that can be used while attending the Youth Club.
Our Facilities Manager, Stevie Garvie (who will build the new youth club) and our Chief Executive, Stuart Provan, were delighted to receive the cheque from National Lottery Community Fund.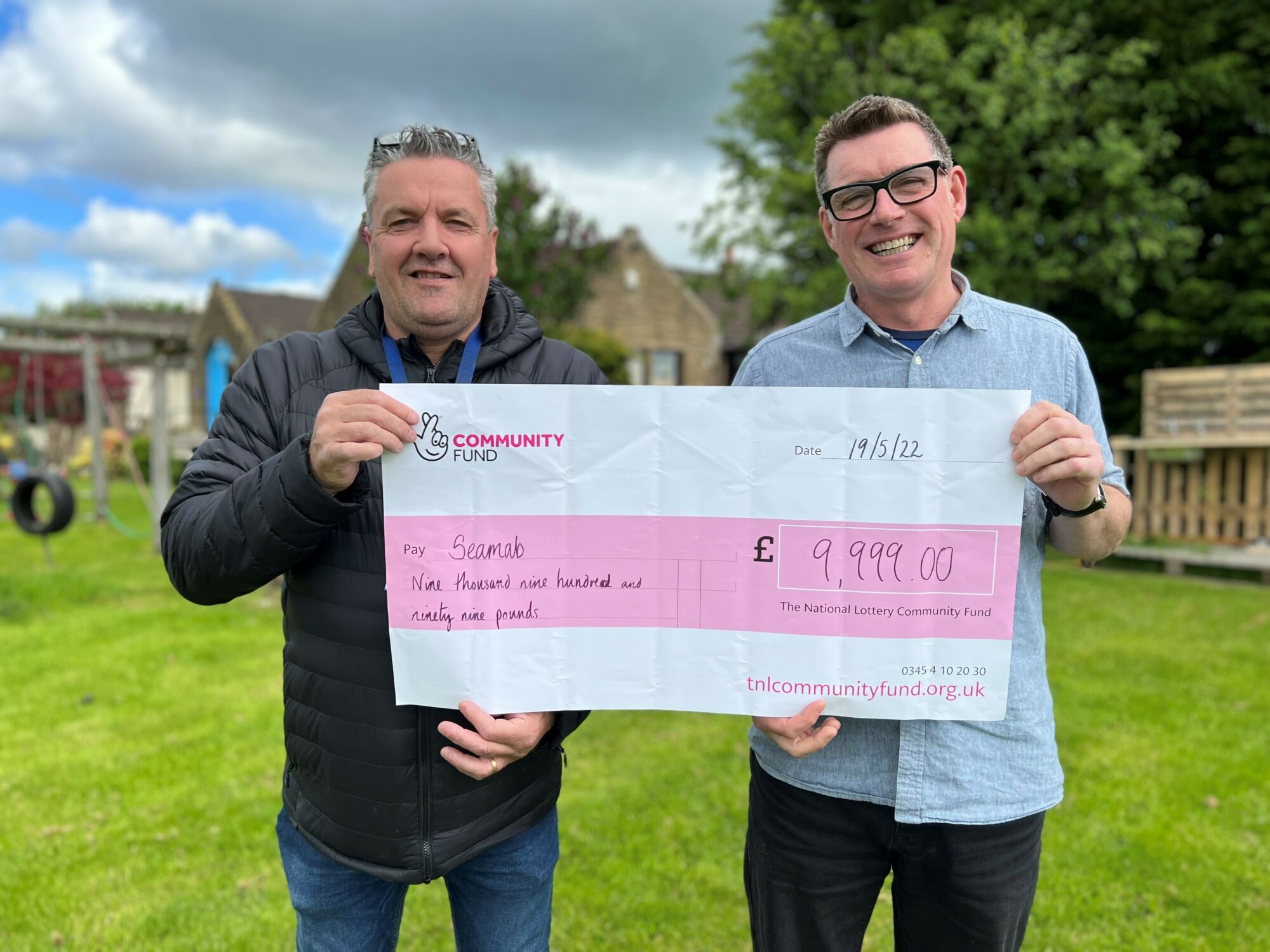 Privacy Notice update
Seamab's Privacy Notice was in June 2022 updated in the policy section on donors, prospective supporters and funders. The Privacy Notice can be viewed here.
Care Inspection
Our recent Care Inspection results are outstanding. Read more here.